Joey's First Teacup Agility Trial
July 11, 2004
On July 11, we went to Wadsworth, IL at
Van Patten Woods hosted by Candys Canines
for Joey's first teacup trial! We setup shelter with our partners in crimes, The Sneltons! Our neighboring shelters belonged to group members from our club NOCI. We had a great time all being together!
| | |
| --- | --- |
| Racing up the A-Frame | Joey and I were the first team to run. We qualified and took first place in the 4" division, despite Joey efforts to have a good time! You see, part way through the course, Joey decided to go check out the edge of the fence. Fortunately, I was able to get his attention and he finished the course with enthusiasm. |
| | |
| --- | --- |
| For the Games Class, we were not as successful. Joey ran off to smell the old bunny nesting grounds. | Chasing Joey around the ring! |

Joey at the start line,
eyeing up the 'stick'





For his final Standard Run, Joey gave us a little show! At the start line, just as I said "GO", he found a big chunk of wood bark! He grabbed it and ran from me, but I was able to coax him through the first tire obstacle.






Running the DogWalk with the stick in his mouth!
Joey continued running the entire course with that piece of stick firmly in his mouth. I thought we had been disqualified already, but we kept running. The 2nd to the last obstacle was a tunnel. Joe came to the end of it and just grinned at me with that stick in his mouth, refusing to come out! Needless to say, before long, we were whistled off and the spectators were all laughing! Later, the judge told us it was not illegal for a dog to pick up an object on the course. He would have qualified if he had just completed the last tunnel and crossed the finish line...







Some of our Friends and their wonderful Dogs!


Our little Cousin Bekka!
This photo was taken right after Joe's
'stick' run! He was very proud!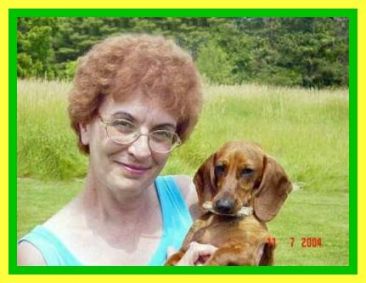 We did go home with one qualifying ribbon
(our first leg) as well as a first place
ribbon and 2 non-qualifying place ribbons.
Now on to more trials!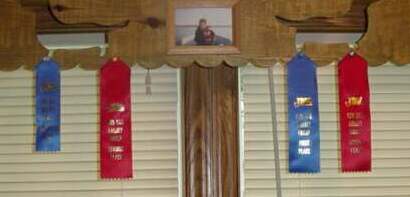 For more information about Teacup Agility,
please visit the TDAA Website!

See Joey's Other Agility Trial Pages

Joey's Agility Record

Joey's Agility Photos Collage
Please Sign Our GUEST BOOK