Joey's NewsLetter!
LATEST NEWS for 2007!
Meet the Newest
APDT Rally-Obedience CHAMPION EXCELLENT
and UKC Agility CHAMPION EXCELLENT!




On July 22, 2007, Joey
earned his final
Double Qualifying Scores
to obtain his
ARCHX Championship Excellent
Title at the
Sports Arena in Crystal Lake!
His ribbons are bigger than he is!





On July 28, 2007, Joey earned his fifth
and final qualifying Scores
to earn his
UKC Agility Champion Excellent Title - UACHX!
We are very proud of Joey!

Joey was able to accomplish these titles despite his handler's broken toe!

And also, we are proud to introduce our
NEXT Agility/Obedience Champion,
Please Meet SAMMY THE PAPILLON!!

Sammy is now 10 months old and has already started
his agility and obedience training.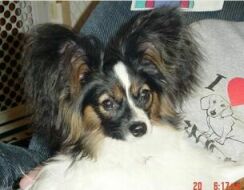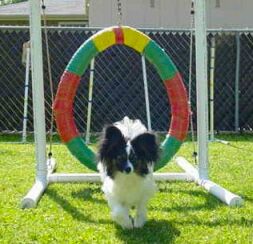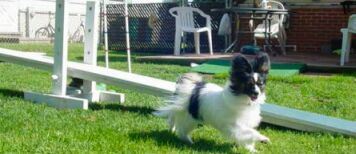 Hopefully, Sammy will be ready for the show ring late this year
or in the Spring of 2008!

Sammy's Own Web pages can be viewed at: Sammy's Pages!



2006 APDT Rally-Obedience CHAMPION
and UKC Agility CHAMPION Photos!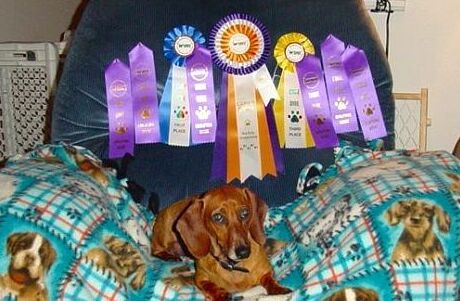 JOEY!

Joey earned the final points and Double Qualifying Scores
to finish his ARCH Championship Title at the
Rally-Obedience Trials in Schiller Park
on Saturday, July 22, 2006!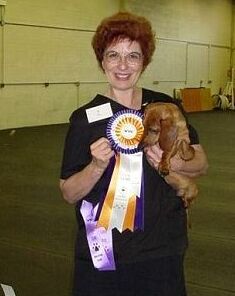 AnnaMarie is a very proud Doxie Mom!
ALSO,
On July 30, 2006, Joey did it AGAIN!
Joey earned his
UKC AGILITY CHAMPIONSHIP title (UACH)
at Schiller Park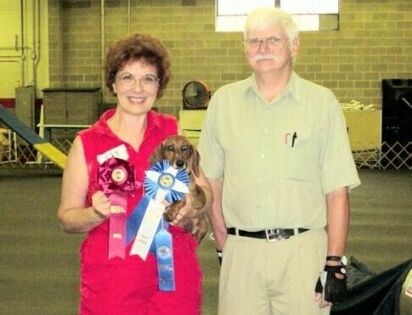 Photo of AnnaMarie and
UKC Judge Joe Reese after
winning agility championship!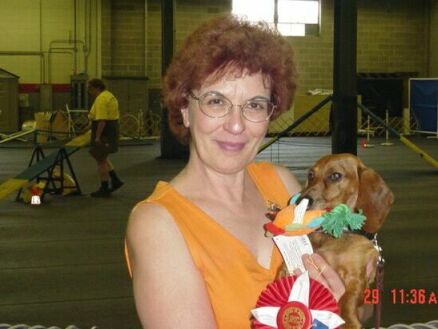 We Won!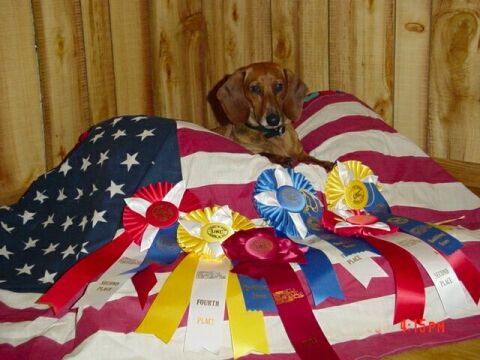 Joey relaxes with his prize ribbons!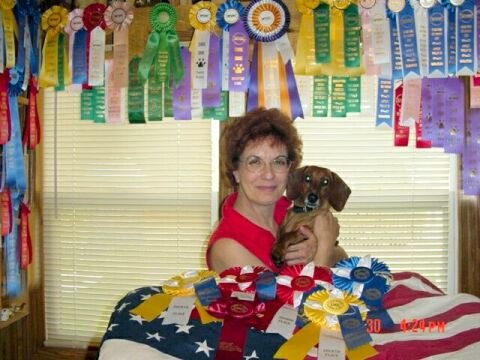 In our 'Trophy Room'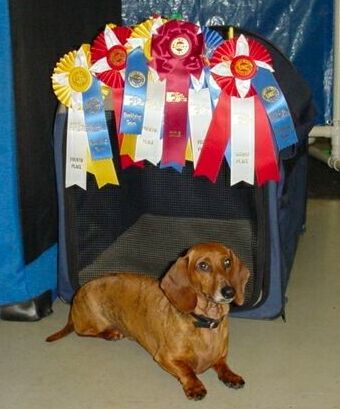 Joey, What a Champion!


AND, as an added Bonus,
Joey earned a Level 3 TITLE with an Award of Excellence
in APDT Rally-Obedience
On August 12, 2006 in Cary IL!

In 2012-2015, Joey came out of retirement once again to earn
Nose Scent titles, the NW1 and CW-SP and CW-SD
He also earned the CW-SPA, CW-SDA and CW-SI Titles!
His new favorite sport is now NOSE SCENT!

Joey now has 43 titles from various venues in
agility, obedience and Nose Work
includes Four Championships! GO JOEY!

Joey's official name is now:
UACHX, ARCHX Kinder's Joe-Wee Von Strata, NW1, CW-SP, CW-SPA, CW-SD, CW-SDA, CW-SI,
RN, RA, RE, NAP, NJP, OJP, RL1, RL1X, RL1X2, RL1X3, RL2, RL2X, RL2X2, RL3,
TIAD, TG2, CSL1-R, CSL1-F, CLS1-H, CSL1-S, CL2, CL3S, CL3F, CL3H, CL3R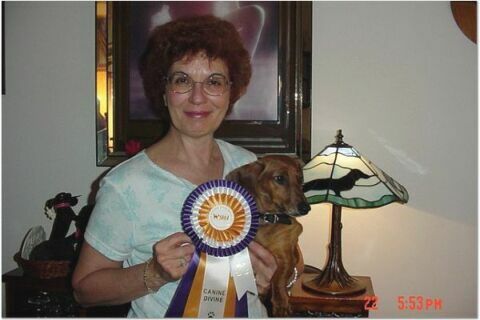 Other photos of Joey can be seen on his website pages at:
Joey's Photo Page

Joey's Title Tracking page can be seen at:
Joey's Records




As of February 2008, Joey is officially retired from all competition
but in 2012 has been brought back to show in Nose Scent!

On January 8, 2008, Joey had IVDD Spinal Surgery.
We continue to pray for his full recovery
See Joey's Surgical Page JOEY has Back Surgery - 2008!
Please Sign Our GUEST BOOK
Email us at
amh_58@hotmail.com


See Joey's Other Agility Trial Pages

Joey's First Teacup Trial

Joey's Agility/Rally Photos Collage

To See our Previous Agility and Rally Trials
2004-2005 Agility and Rally Trials


Last Updated on January 28, 2016

What is a Title Really? By Sandy Mowery



Not just a brag, not just a stepping stone to a higher title, not just an adjunct to competitive scores; a title is a tribute to the dog that bears it, a way to honor the dog, an ultimate memorial. It will remain in the record and in the memory, for about as long as anything in the world can remain.

And though the dog herself doesn't know or care that her achievements have been noted, a title says many things in the world of humans, where such things count.

A title says your dog was intelligent, adaptable, and good-natured. It says that your dog loved you enough to do the things that please you, however crazy they may have sometimes seemed.

In addition, a title says that you love your dog. That you loved to spend time with her because she was a good dog and that you believed in her enough to give her yet another chance when she (or you!) failed and in the end your faith was justified.

A title proves that your dog inspired you to that special relationship enjoyed by so few. That in a world of disposable creatures, this dog with a title was greatly loved, and loved greatly in return.

And when that dear short life is over, the title remains as a memorial of the finest kind, the best you can give to a deserving friend. Volumes of praise in one small set of initials after a name.

An obedience title is nothing less than the true love and respect, given and received and recorded permanently.