Welcome to New Web Home of 9-17-2020
Nancy, Frankie and Joey
Now All Grown Up!
And Sammy Too!
(Unfortunately, Nancy Frankie and Joey are
now joined together in Heaven)
****** MY BELOVED JOEY DIED ON MARCH 18, 2019!! SEE BELOW
****** FRANKIE DIED ON APRIL 3, 2017!! SEE BELOW
* JOEY HAS MAJOR SURGERY - 2015!!! SEE BELOW
** August 5, 2011, ANOTHER JOEY UPDATE!!! SEE BELOW!!!
***** Nancy Died in 2008, SEE BELOW
*** A JOEY UPDATE - 2008!!! SEE BELOW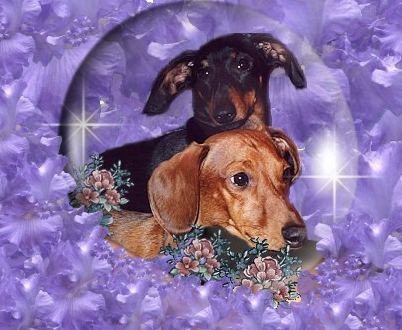 Nancy and Frankie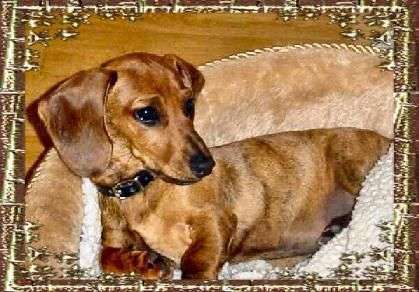 Joey!
Hi Everyone! We are Nancy and Frankie
Adorable Mini-Dachsies!
I am Nancy (the cute Red one)
and this is Frankie, Mom's little black kid!
Now that we are all grownup, Mom said
we can help in the creation of our own site,
us big kids have ideas of our own!

We are also proud to introduce our little
brother JOEY, who joined our pack in 2003!
See his links below!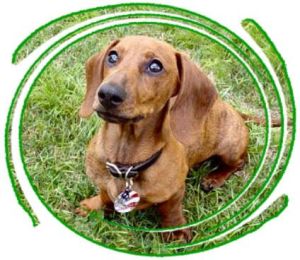 Joey's First Day at Home
Joey's First Photo Album
Joey's First Agility Training
Joey's Continued Agility Training
Joey's 2003 Photos & Progress Report!
Photos & Progress Report - 2004-2005!
Other Memorable Events and Progress 2005 - 2012
Joey's First Teacup Agility Trial - 2004!
Joey's Early Agility/Obedience Record
Joey's Agility, Obedience and Nose Scent Record
Joey's Championship Page
Joey's Agility/Rally Photos Collage
Joey has Back Surgery - 2008!

And there are many more links below in the Table of Contents



Nancy and Frankie!

In the above photo, both of us were a year old in December, 2001,
be sure to stop and see our
Baby Book, The First Year


Hi, I am Frankie, the cute Black Doxie!
I just celebrated my ELEVENTH Birthday on Dec 29th, 2011
another birthday without my Nancy, she would
have also been 11 years old... I still miss her alot!

Be sure to see our 5th birthday, Christmas Photos
and many other memorable photos from 2005 to the
Present at the below links!!


Meet the new addition to our pack!
Meet SAMMY the PAPILLON!
Sammy joined us in December 2006


| | |
| --- | --- |
| Sammy at 8 Weeks | Sammy at 9 months! |

Come back often for updates on Sammy!
See Sammy's Welcome Pages for more
details, Photos and Progress Report!!

At 14 Months, Sammy is flying through his
Agility Classes with Great Enthusiam!
Sammy entered his first TDAA trial
as a For Exhibition Only Entry
in August 2007 and did great!
Many new photos are always being added to Sammy's Page

Sammy now has his own photo page
with his early Training photos and progess
See this new page! Sammy's First Training Photos
Latest Photos too! Sammy's Photos


At 18 Months old, Sam was entered in his first Trial!
Sam now has his very own page for his performance record,
and his progress can be seen at Sammy's Performance Record

In 2009, at 2-1/2 years, Sammy is still struggling for attention on
the course, but is improving! Still has some awful trial days...
In 2010, Sammy seems to be improving on the Agility Course!
It is possible that he is finally starting to mature!
By Mid-Summer, 2010, Sammy is really looking good on the course,
Still has issues, but is improving!
Late Spring 2011, Sammy is very much improving in trials,
Finally doing AKC and getting 1st Places! PROUD!

Summer 2012; Sammy continues to improve in Agility;

October 2012; Sammy earned his CPE Level 4 Title!!
Now on to earning our C-Atch Title

Fall 2012; Sammy is much improved in Agility!
Spring 2013, Sammy continues to improve in Agility
He has earned more NADAC Titles; Weaving MUCH improved!!



Nancy, Frankie and Joey are very grownup kids now.
A new family page are among the sites to visit!

Here is a photo of the 3 of us, all grown up!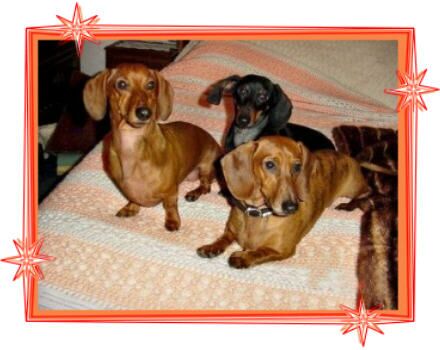 Aren't we just adorable!

When Nancy was a young dog, she took many agility classes and
was doing well, She was so very fast, however, she never really
seemed to like agility...
She did win her first Qualifying Score with a
1st Place in a TDAA Games class,
but in October, 2003, she was retired from agility
and our little JOEY started agility and
obedience competition training!

Frankie specializes in being CUTE!
However, in January, 2004, Frankie needed disc surgery
for ruptured discs in his back.
We are grateful he made a good recovery and
will be just fine. Be sure to see his
Surgical and Recovery pages
Frankie's Back Surgery and Recovery

Stop by and see Mom's wonderful dachsie
collection, she has some fantastic collectibles!
Dad has been making Dachshund Woodworking Creations,
Be sure to see them too!

There are lots of human family members you
should meet, as well as our first vacation,
agility trials, training sessions and other adventures!

Mom says these pages are always under construction.
She has to make time to play with us, so
we know you will understand!

Be sure to stop back often and see
new photos and training accomplishments!
Our Photo Galleries are just wonderful
And Joey has several 'Accomplishments' Pages,
(Little Show-Off!)

The newest link is the "Favorite Photos,
Memorable Moments and Progress Report
from 2005 to the Present" Be sure to See it!
2005 to the Present and
Other Memorable Moments!

In 2004, Joey entered Teacup Agility
trials, be sure to see his photos.
To date, Joey has both his TDAA Intermediate Titles
and is working on his Superior Titles!

In November 2004, Joey entered
AKC Jumpers Trials and did well.
In July 2005, he earned his
AKC Novice Jumpers Title!

In 2005, Joey continues his Agility and
Obedience Training Progress and in
July 2005, Joey received his
Level 1 APDT Rally Obedience Title and
in December 2005, he earned his AKC RN title!

Joey has competed in other venues,
such as UKC, CPE as well as AKC and APDT Rally.

Joey retired in 2008 due to his back, but he has come
out of retirment in 2009 to start in UKC Rally! He has done well!!

Joey is out of retirement again to now trial in Nose Work!
This is Joey's favorite sport so far and he is excelling!
Be sure to see his
Agility, Obedience and Nose Scent Trials Record Pages
for updates on his latest titles.

2006 started great with UKC agility wins!
2006 had been a great year with Joey earning
TWO Championships, see his Championship Page
2006 was a wonderful and successful year for Joey

2007 began with more agility/rally wins
for Joey plus eleven additional titles, which now totals 36!
Joey earned his APDT Championship Excellent Title
on July 22, 2007 as well as his
UKC Agility Excellent Title on July 28, 2007!
See his Championship Page
What a great year! Joey will be in
Semi-Retirement for the year 2008


*** 2008 started off with major problems.
On January 8, Joey had IVDD Back Surgery
Will keep this page updated as his recovery Progresses

As of January 14, 2008, Joey can walk wobbly and is recovering
Please Pray for his complete recovery...

As of January 30, 2008, 3 weeks post-op, Joey is wobbly again,
He doesn't seem as strong on the right rear leg,
Prayers are continuing for Joey...
As of February 4, 2008, Joey seems a little better.
He starts Physical Therapy Rehabilitation with Patti
from Dogs in Motion,
an In-Home Canine Rehabilitation Service

We have a new Web Page for Joey's Back surgery,
Please see Joey's New
Surgical and Recovery pages
Joey's Back Surgery and Recovery

February 7, 2008, Joey's visit with our wonderful Therapist was a
big Success! Joey is walking much better, he will
be getting In-Home Physical Therapy for a while, but we
are now expecting a full recovery!

March 2, 2011, Joey's just celebrated his EIGHTH Birthday, the
entire Family is greatful for his recovery from back surgery and we continue to
pray for his continued health! Joey is still the smartest dachshund! He
has learned to open our doggie gates and has learned new tricks! What a dog!

March 2, 2013, Joey's just celebrated his TENTH Birthday, we had
a Doggie Birthday cake for all 3 of our kids, photos to follow


March 18, 2008, at 10 Weeks Post-Op, Joey is walking normally!
He continues Physical Therapy and is doing Great!
In April 2008, Joey is still doing Physical Therapy and
seems completely back to normal!! By Summer, Joey
has discontinued all therapy and is completely normal.
Joey has come out of retirement in 2009 to do UKC Rally.

***** 2008 was not been a good year for this family!

In August, 2008, Nancy developed AIHA, which
is 'Auto-Immune Hemolytic Anemia', the same dreaded
illness that took our Pippy in 2001.

Nancy was under the care of the team at Wright Animal Hospital
in Des Plaines, IL; the same specialized team that cared for Pippy...
We fought for Nancy's life for 5 weeks, she put up a good fight...
Even with the best care and treatment, Nancy didn't respond to any
of the treatments.

Nancy Died on Sept 3, 2008,
Here is her Memorial and Illness Links:

Nancys Memorial Page

Nancy Has AIHA
Thanks for Visiting Nancy .....
2010, two years already since Nancy left us, we miss her terribly....

In 2008, My Father came to live with us.

In October 2009, my Grandson DAVID came to live
with us! David is a wonderful addition to our household!
We now have a full house, but the pups just adore David!

2010 has been an OK year for us so far!

April 2010, no longer a good year, I lost my job of 27 years!
But 3 weeks later, I am employed by a doctor's office,
it is hard work, but at least it is work!

Frankie due for Tumor surgery June 2010

Joey tries for a CD leg but NQs, Good Run anyway, June 2010

Frankie has successful Tumor surgery on his rear,
the tumor was huge but benign, he recovers quickly!

Sept 11, 2010, DachsieFest! First one in 3 years! We only took Joey and
Sammy, Frankie stayed home with caregiver. We needed to travel light
due to my bad back. Joey and Sam had a ball!

October 15, 2010 - Sam's 4th AKC Trial at the New FYC!
Not great, slightly Better, 1st AKC Qualifying Score!

2011 Starts off quietly! Sammy improves in agility
Feb 2011; a major snow storm, not fun!

April 2011, Sammy still improving in Agility,
Frankie and Joey doing great!

May 2011, all is Great! Sammy is improving,
Joey is even smarter! And Frank is adorable!

** AUGUST 5, 2011! Joey is almost paralyzed in his right rear quarter!
He was rushed to Veterinary Specialty Hospital and had an MRI
Not great news, weakness is caused by scar tissue from the 2008 surgery!
Only treament now is the conservative treatment
Please pray for Joey's complete recovery
See the below Link for complete Updates on Joey's Back
Joey's Progress and Updates

Sad news... My Dad, Hank Krause, DIED on 9-11-11;
We pray he is now with God,
My Mom also died on 9-11; in the year 1993
We are all very sad and we pray that Dad and Mom are both in Heaven....

See Dad's Memorial Site
Henry Krause Memorial

**September 27, Joey is walking just fine now, but he is still
on crate rest and confined till Oct 1st;
November 2011, Joey is allowed to walk around the house again.

December 18, 2011, a suspicious incident, very minor. Joe awoke
during the night and wanted to sleep in kitchen. He did this several times
before the incident in August. This time, not taking any chances.
He is on complete crate rest for a while. He has no symptoms and
good reflexes.. Please start praying; See the below link for continued updates
Joey's Progress and Updates

January 10, 2012; Joey seems much better and is off crate rest again.
No further symptoms, we are watching him carefully!

Christmas 2011 has come and gone, no major updates!

March 2012, Joey is now NINE years old and has
just started a Nose Scent Class at at For Your Canine
He is just like a puppy! Showing off and doing tricks in between his turns!

Joey is having a blast at Nose Scent Class,
he is now working on Odor Recognition!

July 2012; Joey is doing excellent at
Nose Scent, he has the first scent mastered!

August 2012; Joey passed his Odor Recognition Test!
Now on to Trial!

October 6, 2012; Joey went to his first
Mock Nose Scent Trial, He was great, Mom wasn't....
He passed 2 out of the 4 Elements, We go to
Scent trial on Oct 28, 2012

October 28, 2012 - Joey wins his Nose Work Level 1 TITLE!
He earned his NW1 with honors! He was excellent on a
very cold and windy day! PROUD! Now we start working
on Level 2
Please stop and see Joey's Nose Work Photos!
Nose Work Photos
as well as the latest photos of all the dogs!

January 2013 - Joey officially starts Nose Work
Advanced Training to Prepare for the 2nd Level Nose Work

March 2013, Joey is now TEN years old
and he is preparing for his first Level 2
Nose Work Trial being held in May 2013;
He just LOVES Nose Work!

Joey's 10th Birthday Party photos can be see
at Birthday Photos

April 14, 2013; Joey passed his Anise ORT in 16 sec
at Union Grove, WI

August 4, 2013; Joey passed his Clove ORT in 10 sec
at FYC in Melrose Park, IL

September 1, 2013; Joey's 1st try at C-Wags Nose Scent
Did good, got 3 out of 4 Qs,
Odors were Birch and Cypress, trial held
at FYC by Kay Weber;

September 7, 2013; Another Annual Trip to Danville IL for
DoxieFest 2013; As usual, JOEY won 1st Place in the
Best Trick Contest! See Link for Photos 2013 DoxieFest

September 21, 2013; Sammy finally got his
CPE Championship Title - C-atch!!

December 2013; Joey gets a C-Wags Level 1 Scent title!

December 29, 2013 - Frankie turns 13 years old
All the pups had a fun Christmas and Frankie is
still healthy and doing well!

Starting in 2014, I have retired Joey from
Nosework and all training, it has been too
difficult to get in trials. Joey doesn't mind!

In March, Joey turned 11 years old!

No DachsieFest for us this year!
All the dogs are doing just fine!

We are successfully ending 2014 with a healthy family!
Frankie just turned 14 and is doing well!
Joey and Sammy are also doing fine!
Mama will be retiring in 2015!

* A Joey update for February 2015!
On January 25, 2015, My beloved JOEY underwent
exploratory abdominal surgery. The vet was looking for a
lymphoma or some reason why Joey had suddenly become very
weak and unable to get up a week ago. Imagine my terror!
The GREAT news is that Joey is CANCER-FREE! Prayers answered!!
Biopsies were done of much of the abdomen, especially of the
thickened small bowel.

All the biopsies were NEGATIVE for cancer, but showed that Joey
had Eosinophilic Inflammatory Bowel Disease! A benign condition!
Joey was home that same evening of the surgery and did well.
I stayed home with him for the first 2 days post-op and Daddy
stayed home the next day, then it was the weekend and I was home, I never
left him alone. The next week, he slept in Dad's room during the day and in a
crate at my bed at night. He recovered quickly and at day 13 had his stitches
removed. He was feeling much better, but sometimes got weak. The vet decided that
since he was almost symptom free, she would not do any prednisone therapy, which
is an option should and when he relapses. As of this date, he is doing well
on a home cooked diet of rice/ground turkey! And of course, much LOVE!

March 2015, Joey turned 12 years old and is doing GREAT!

In June, 2015, I retired from my job and Joey is doing so well, I decided to
let him compete in C-Wags Nose Scent. He quickly earned his 40th title in Level 2

We will also be competing in UKC Nose Scent. The dogs have enjoyed having me home
for the remainder of 2015. It has been a fun year!

Keep praying Joey and all the dogs stay healthy and happy!

2016 has been good so far. Joey has been well and just earned his 46th title.
He loves nose work and doesn't seem to want to retire. Our elderly Frankie, who
just turned 15 is doing OK for a Grandpa Dog. He is in good health, sometimes needs
help getting around but is well.

On March 2, 2016, Joey turned 13 and is doing well! He just got his 46th TITLE!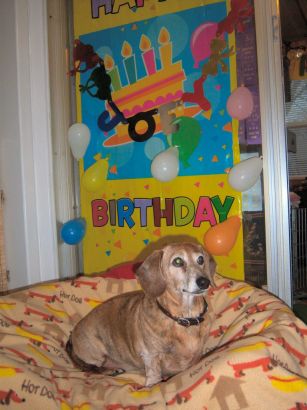 Happy 13th Birthday Joey!!

After the Spring 2016 Nose Scent trial, I decided to retire JOEY once again. Mostly
because I was unable to do such long days plus the constant picking up of Joey was extremely
hard on my declining back.

During the early Fall of 2016 Joey had a frightening attack of Vestibular Disease.
He woke up one morning unable to stand on any of his paws and would fall over. After a
frantic trip to the vet, it was diagnosed at Vestibular disease and he would quickly improve.
We are hoping this never recurs.

On March 2, 2017, Joey celebrated his Healthy and Happy 14th Birthday!

+++++++++++++++++++++++++++++++++++++++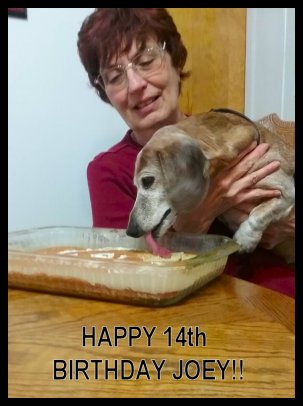 Happy 14th Birthday Joey
and Many, Many, MORE!!

+++++++++++++++++++++++++++++++++++++++


On March 2, 2018, Joey celebrated his Healthy and Happy 15th Birthday!
He had a blast licking his cake and tearing through his gifts!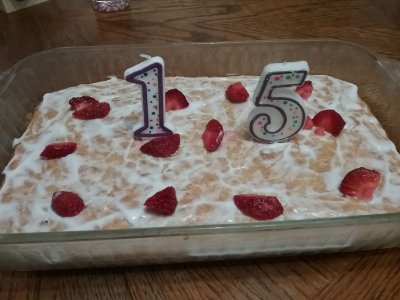 Happy 15th Birthday Joey
and Many, Many, MORE!!

+++++++++++++++++++++++++++++++++++++++


HAPPY 16th BIRTHDAY JOEY!!!


On March 2, 2019, Joey celebrated his 16th Birthday with us!
Dad made his cake more unique since we wanted this birthday to be memorable.
So Dad made his cake standing up high! Joey LOVED it!
He also had a blast licking and chewing into this cake and
then tearing through his gifts!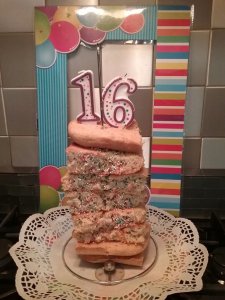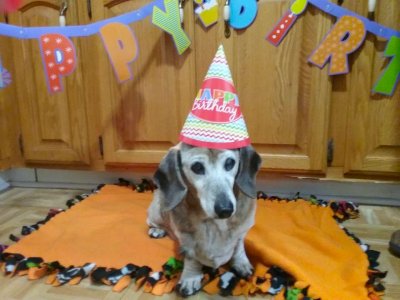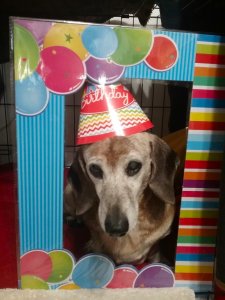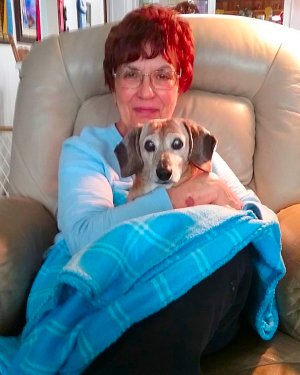 Happy 16th Birthday Joey....

+++++++++++++++++


****** It is with a very very heavy and broken heart that I must say, my BELOVED JOEY
died after a short illness on March 18, 2019 from heart failure. He was diagnosed with a heart
murmur about 7 months ago but didn't have much symptoms. He had several trips to a cardiologist
and was doing OK. During his last month he had a mild occasional cough, but the vets said he was doing great.
He had a wonderful 16th birthday but the night before he died he was a little more quiet. The next
morning, he woke us with a bark & was very weak when he went out to potty. We called the vet at 6AM
and we agreed to take him in. After a little while, he rallied a bit to eat, then walked to his water
then asked to go outside and poo. We went to the vet & he perked up a little. His x-rays showed his right
lung was very congested and his labs showed no pneumonia so it looked like it was heart failure. He was
getting weaker. The vet thought we might try to make him rally but if he wasn't improved in one day then
he would have spent that time suffering. We heartbrokenly decided to send
him back to God. I had decided to keep his body home in a little casket at
home for 24 hours before bringing him to St. Frances Mortuary for final
cremation. I did NOT want him to be put in a freezer. So we brought his
still body home, washed him, and he lay in state on a table in our living room. We both cried all night.
At noon, we had a short memorial on the St. Francis altar, then we left him with the mortician and we
were called 3-1/2 hours later that he was ready to come home. Our beloved never spent a night away from
us. His ashes were placed in the beautiful urn that I bought some years ago. He now rests next to
Nancy, Frankie and Pippy's remains in our living room. I have not been able to get over his death to this day.
Go with the Angels Sweet Joey! Until we meet again, we will always love you!

As of this date, I am still trying to write Joey's Memorial. I have not
been able to do it yet as I am still in very deep mourning. I miss him
so very much.

+++++++++++++++++++++++++++++++++++++++++++++++++



Frankie was 16 years old on 12-29-2016, he no longer walks but
still seems to be OK, no illnesses. He loves his food and loves
his boy David. He likes chewies. We pick him up for potty, bed and dining!
We are unsure how long he will be with us, but we love him!!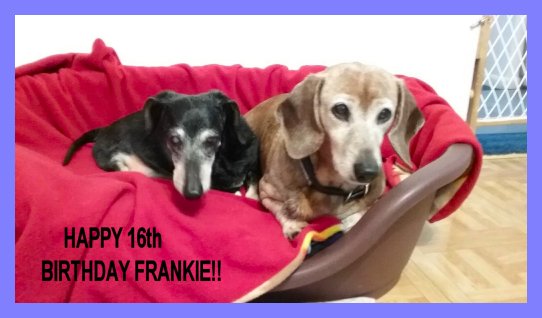 Happy 16th Birthday Frankie,
and Many, Many, MORE!!

***** It is with a very heavy heart that I must say, our Beloved FRANKIE
died on April 3, 2017. He started to cry most of his waking hours and we were
unable to comfort him. We took him to the vet, we were told his heart was healthy
but he was just very elderly and that sometimes the very elderly cry for no reasons.
No one was sure if he was in pain or not but the decision was made to be kind enough to
give him back to God. It broke our hearts but we do rejoice in the fact that he lived a
long and relatively healthy and happy life. His remains now rest next to Nancy's and
Pippy's remains in our living room. Go with the Angels Frankie!
We will always love you!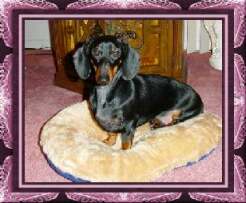 Please visit Frankies Memorial Page
Frankies Memorial Page

While you are visiting us, please
see our other pages in our
Table of Contents for many more interesting antics!

Table of Contents



Please Sign Our Guest Book Below



Email us and our Mom, AnnaMarie at
amh_58@hotmail.com







Last Updated on December 31, 2020






Our Other WebPages:
Nancy and Frankie's First Year

Pippy's Memorial

Pippy's WebPages